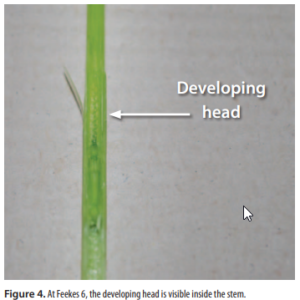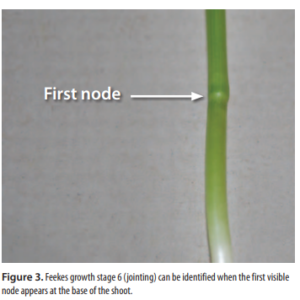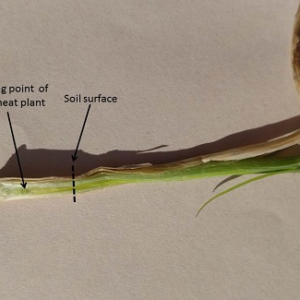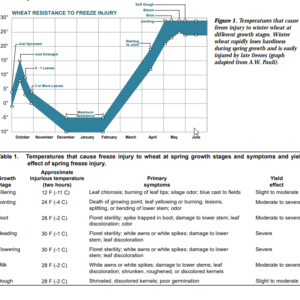 Our spring weather never ceases to amaze me.  The cold air this week was pretty significant.  We had two mornings that the temperatures dipped below 20F one being closer to 10 F.  That is cold regardless of the time of year.  Unfortunately with the cold air we only received wind no moisture.  We are now within a couple of weeks of irrigated corn being planted. I have seen a lot of sprinklers going over the past week on wheat and some pre water for spring crop.    I did measure some soil temps this weekend and found some no till fields 38 F at the 4" depth and some strip till at 40-43 F.  We need some more days like today to make the 25th of April planting more of a reality.  The flip side of this when the weather warms we could see some of this dryland wheat starting to moisture stress quite rapidly.  The cooler temps have been helping us out in this aspect.   The calendar is telling us regardless it is time to get things done. I will now transition to this week's info.        
 Wheat is developing less rapidly than I anticipated due to the colder temperatures. I am still seeing some fields approaching  Feekes 6.  I have had several questions this week in reference to the cold temperatures.    The photos below again illustrate both Feekes 5 and 6 which is where we are developmentally for the most part.   
The wheat resistance chart gives some general expectations in regard to the yield effect when crop is exposed to freezing temperatures. I will not make any assumptions here but, we need to understand the potential impact on yield.  I also attached the Mesonet weather data from the Colby weather station.  As you can see the temperatures did get quite cold on the mornings of the 13th and 14th.  While it did warm up rather quickly there were a few hours that the temperatures were below freezing.  We deal with this one time or another every spring as always, the severity will be dependent on the developmental stage. I will be assessing  the impact on some wheat fields later this week.   As we all know our wheat has been through a great deal to this point and will continue to do so if we remain in this dry cycle.  While we cannot control the weather we need to continue to focus on the things we can control to optimize yield.                                                                                     
The spring crop project is now in high gear.  I have heard of some corn being planted shortly on irrigation.  I wanted to circle back to biologicals since I am hearing more and more products and claims.  When hearing these claims remember to go back to the fundamentals of what we have discussed this winter.  This space is cluttered with a lot of false claims and lack of the fundamental knowledge of the process. I will not go into a long decertation just understand this is something that has been happening in our soils for some time.  We have to resist the temptation to attempt to treat this much like we do with basic fertility.  What I mean by this it is we cannot just add fuel when the tank is low.  Soil biology is more about allowing it to do what it do.  As I have said many times the goal is a balanced approach.  If we focus on just nitrogen fixation we are not seeing the forest for the trees. If you need any help with this feel free to reach out.
We are now approaching go time with the planters. This is always an exciting and challenging time.  Unfortunately, the rains continue to avoid us.  We need to make sure we are taking advantage of the moisture that we have by proactive management.   As always, if you need anything feel free to reach out.